The Flaky Tarts at The Village Hall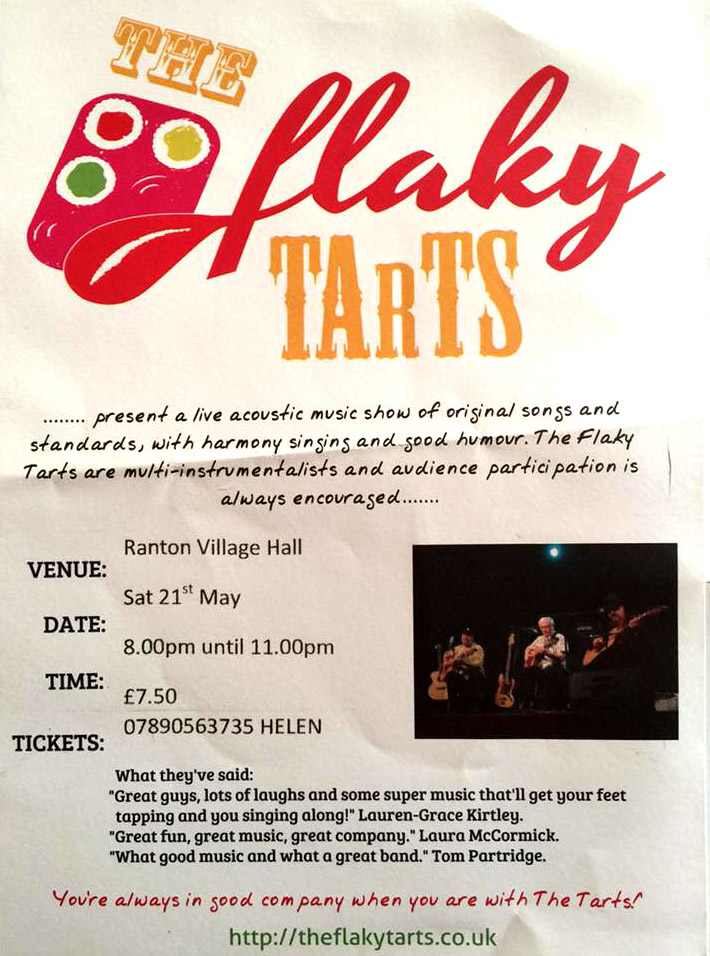 Saturday 21st of May Ranton Village Hall 8pm - Tickets £7.50

The Flaky Tarts are:

Tony Barrett: Singer, songwriter, multi-instrumentalist, raconteur.

Denis Billau: Tenor singer, songwriter and talented guitarist.

Glen Buglass: Bass and guitar player, singer, songwriter.

The trio hale from Staffordshire and got together through meeting at the vibrant Bookmark Bloxwich theatre. Tony has been on the midlands music scene for many years. Glen has been in rock and acoustic bands in London and the midlands all his life. Denis decided he wanted to do something valuable after he retired from a career in teaching; he's become a Flaky Tart.

The material is self penned. The trio play guitars, mandolin and bass to make their unique sound. They harmonise vocally and their songs are written to make you think. The band plays a range of styles from folk through country to rock, so audiences never know what is coming next! Tony Barrett, the group's front man has the audiences in stitches with his quips and observations.

You are always with good company when you are with The Tarts.
<< Return to the zort.co.uk home page
---
Older Articles
---
2008
2019
2018

Dec
Oct
Jul
Jun
May
Apr
Jan

2017

Dec
Nov
Oct
Aug
Jun
May
Apr
Mar

2016

Nov
Oct
Sep
Aug
Jul
May
Apr
Mar
Feb
Jan

2015

Dec
Nov
Oct
Sep
Aug
Jul
Jun
May
Feb
Jan

2014
2011
2010
2009

Nov
Oct
Sep
Aug
Jul
Jun
May
Apr
Feb
Jan

2008

Dec
Nov
Oct
Sep
Aug
Jul
Jun
May
Apr
© Black Horse IT Services