BT Roadworks for Fibre Rollout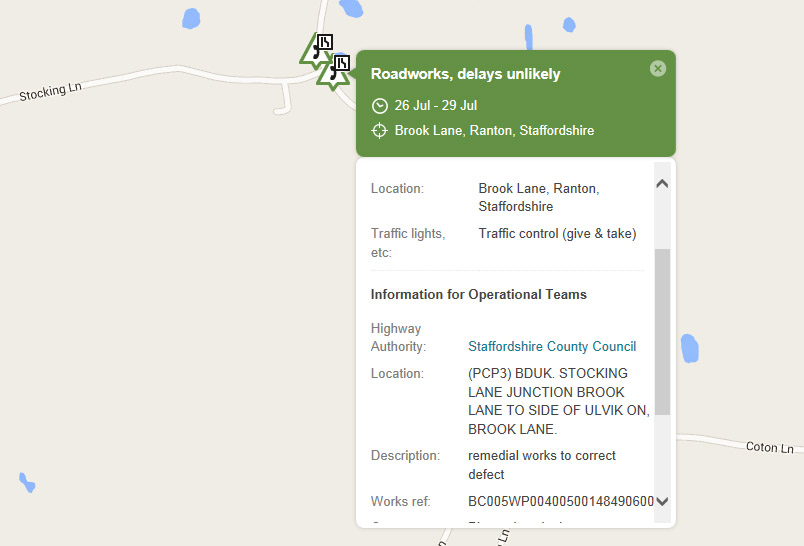 *** Update This work was postponed by a week it now starts on the 2nd of August ***

It looks as though BT will be carrying out some work next week (26th to 29th of July) related to the Broadband upgrade project.

The work is described as "remedial work to correct defect", so it appears that the work carried out last year had a problem that is being corrected.

Whether this is the final stage in the process or just another of the many small steps towards completion is unknown, however it was communicated last week that there are only three blockages preventing the upgrade from being completed. If this is one of those blockages, only two further ones will remain, but the Superfast Staffs team cannot provide any further information on when these will be cleared.
<< Return to the zort.co.uk home page
---
Older Articles
---
2008
2019
2018

Dec
Oct
Jul
Jun
May
Apr
Jan

2017

Dec
Nov
Oct
Aug
Jun
May
Apr
Mar

2016

Nov
Oct
Sep
Aug
Jul
May
Apr
Mar
Feb
Jan

2015

Dec
Nov
Oct
Sep
Aug
Jul
Jun
May
Feb
Jan

2014
2011
2010
2009

Nov
Oct
Sep
Aug
Jul
Jun
May
Apr
Feb
Jan

2008

Dec
Nov
Oct
Sep
Aug
Jul
Jun
May
Apr
© Black Horse IT Services