BT Race To Infinity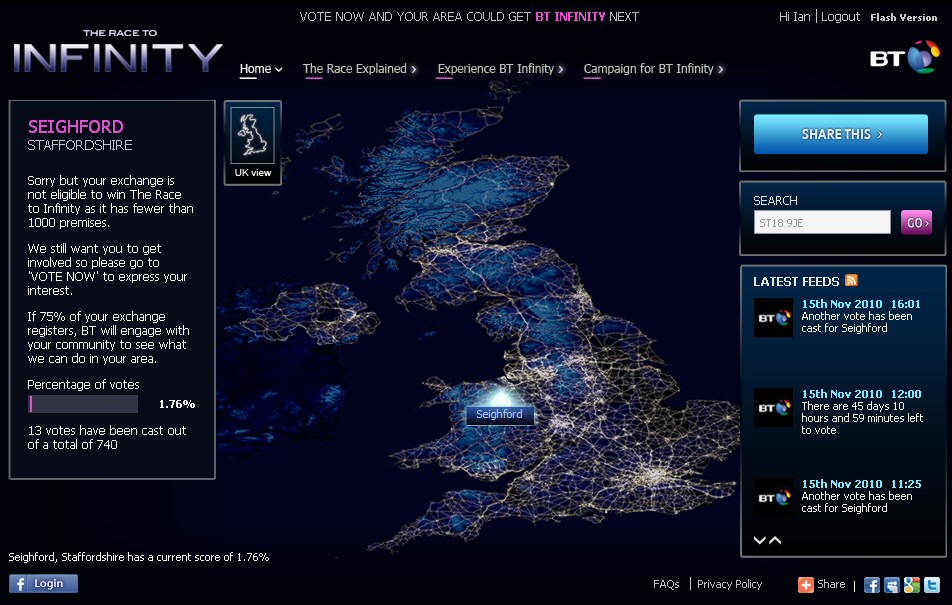 BT are currently asking residents of areas not connected with faster broadband whether they want it's new super fast service.

Unfortunately the Seighford exchange where we are all connected to is not big enough for them to consider upgrading automatically, but if 75% of people that are connected to this exchange register an interest BT may be forced to reconsider.

To register your interest click here to go to the BT website. Click the Vote Now button and then fill in your details.
<< Return to the zort.co.uk home page
---
Older Articles
---
2008
2019
2018

Dec
Oct
Jul
Jun
May
Apr
Jan

2017

Dec
Nov
Oct
Aug
Jun
May
Apr
Mar

2016

Nov
Oct
Sep
Aug
Jul
May
Apr
Mar
Feb
Jan

2015

Dec
Nov
Oct
Sep
Aug
Jul
Jun
May
Feb
Jan

2014
2011
2010
2009

Nov
Oct
Sep
Aug
Jul
Jun
May
Apr
Feb
Jan

2008

Dec
Nov
Oct
Sep
Aug
Jul
Jun
May
Apr
© Black Horse IT Services